This Is Your Competition
Wednesday, October 29th, 2014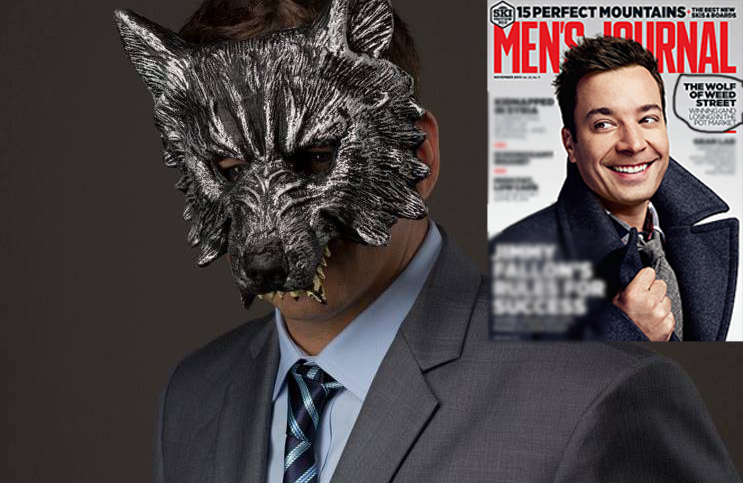 After downing a Bulletproof Coffee this morning I sat down to my pile of mail, magazines, newsletters and printed out posts and stumbled upon an article that intrigued me more than usual.
Quick note, the article itself is a little controversial and has some foul language.
It was printed in the November issue of Men's Journal Magazine. The cover features Jimmy Fallon, my new favorite person, eclipsing Mr. Seacrest, oh whom I bear no resemblance.
Anyway, the article is about a guy named the Wolf Of Weed Street. A play off the Jordan Belfort character, the Wolf Of Wall Street, one of last year's biggest and most controversial movies.
This new age Wolf, consults his tribe, the Wolf Pack, on penny stocks that deal with, you guessed it, the green plant.
Now, I know you are not sending your clients stock picks like this, that is not the point here.
The point is that this guy, with no background like yours, without any track record of helping clients like you do and with no personal morals, has amassed 21,000 followers on Twitter who follow his every move.
This is insane, you might be thinking.
And it is.
But it's true.
Here's what I want you to start thinking about.
We trust characters. We trust celebrities. We want to be led by someone we believe in.
The biggest names in your industry fit this bill.
Your competitors, local and national, have become characters that take up social capital in the lives of their clients and those that follow them.
The big news yesterday was the announcement of the next set of Marvel Comics movies. 12 new movies, all centered around characters.
When Disney purchased Marvel in 2009 for $4.64 billion dollars, they were buying the characters.
We fall in love with characters. And their stories.
That is what this Wolf has done. He has become a character to believe in. And he has found a media in which to communicate with his tribe.
How are you developing and communicating with your tribe?
This is the most important question you can answer about the lifeblood of your business right now!
Are you sending them print newsletters, that they look forward to receiving and reading on a monthly basis?
Are you writing emails that are more than just the "weekly market report" or "here's what my radio show is about this week?"
Are you making sure you stay top of mind with your clients so they bring you up in conversation, willfully, in social situations around the people that would make an impact in your business….and your life?
This Wolf sure is. People are talking about him. Major magazines are writing about him.
What are you doing that is worthy or being written about? Talked about? Shared?
For those curious, you can read the article here.
Let me know what you think about the Wolf and more importantly, what you are doing to develop your own character into the lives of your clients, prospects and local community?
To your success,
Greg Rollett
P.S. I have a big announcement about the December Marketing Playbook for our Ambitious Advisors that I should be sending out Friday or Monday. Can't wait to share that with you.
Spoiler alert – the theme is all around It's A Wonderful Life.
Ambitious Advisor members will be receiving their new marketing binder and raw files on Monday.
P.P.S. This article and a few others I have been collecting and highlighting, making notes on and action steps are being mailed to all the Ambitious Advisor members today.
If you like being in a secret society that has this type of intel, a done for you marketing component to talk to your clients, prospects, referrals and cold traffic, develops your print newsletter for you and coaches you along the way, just reply so we can talk more about the program.
Quick warning: I only accept 1 financial advisor per market. And markets are filling up quickly.